You read that right, folks! You can sell your American Silver Eagles for 100 percent of the current spot silver price in the market at Gold Kings of Commerce.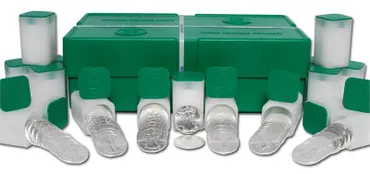 They are alternatively known as American Silver Eagle Coins. The American Silver Eagles one dollar coins were first issued in 1986 by the U.S. Mint. American Silver Eagle one dollar coins were minted to give American citizens a silver dollar coin again.
There are two different types of American Silver Eagle Coins minted for sale. Silver eagles are currently sold in rolls of 20 for investing or hedging against inflation, and there are Single Boxed Mirror Proof Silver Eagles that come with a certificate of authenticity minted for collectors. All of the silver eagles are beautiful coins.
The weight, content, and purity of the American Eagle bullion coins is guaranteed by the United States Mint. The bullion coins are also legal to be used to fund individual retirement accounts.
The face of the Silver Eagle is identical to the original walking Liberty half dollars minted from 1916 through 1947. The reverse of the coins have an Eagle and a shield, and say 1 oz. fine silver.
As the stock market dipped in 2008 the demand for silver and gold bullion coins increased to the point that the treasury put in limitations on how many coins dealers could buy.
In 2010 a new act called the Coin Modernization, Oversight, and Continuity Act of 2010 was passed to remove any limitations. This act granted the Treasury authorization to mint as many coins as needed to meet demand from the public. Silver Eagles sales in 2012 were the highest ever.
Remember, we buy silver eagles for 100% of the silver spot market price! Come by our store today to turn your silver eagles into CA$H! Whether you live in Atlanta, Gainesville, Banks County, Habersham County, or Jefferson County, you won't find any store that pays more for silver eagles!