Animal Shelter Fundraisers
With the price of gold once again soaring after a two year decline, many animal shelters have discovered a benefit to the increased prices. While individuals around the world have taken to selling scrap gold to make a little extra cash, civic and community leaders have learned that helping those in need can be much more rewarding.
The economy has effected many animal shelters. It seems as though everyone, no matter how established they may be financially, are cutting back on excess spending. Unfortunately, this includes what may have been regular donations to worthwhile organizations, like animal shelters. The needs of these organizations are still as profound as ever, perhaps even more so.
If you are the financial and donations director of an animal shelter, you may have felt the impact on your fundraising efforts. One way to lessen the impact on regular contributors' wallets is to establish a process through which your patrons can donate their scrap gold to your organization instead of selling scrap gold for themselves.
Gold scraps are generally pieces of jewelry or other small items which have been broken, or separated from partner gold pieces and are simply sitting in the back of a jewelry box, in an attic or a drawer. They are generally forgotten until one goes looking specifically for them, in fact. If your organization is interested in raising funds, but you're worried that asking for money in this tight economy is going to seem invasive, consider opening your donations to accepting the old gold jewelry that others forgot they even had.
If your patrons bring the gold scrap to you, you can then arrange to have it appraised. Selling gold jewelry is easy and convenient. Simply collect the gold scrap in a central, secure location. If your patrons wish to have a receipt for the donation, you can give each piece donated a log in number with the contact information of the patron included. Once you've collected several pieces, bring them to Gold Kings, who specializes in helping those who are interested in selling gold. The value of each piece can be determined separately so you can then send a donation receipt to your patron.
The process is simple and convenient. By accepting gold jewelry instead of cash to raise funds for your animal shelter, you can increase the amount of money your animal shelter is raising. The benefit to the patron is that they are not parting with their hard-earned cash, which is so hard to come by in our current economy. Instead, they are simply emptying a cluttered drawer in their jewelry box of outdated, broken or mismatched jewelry items. Most importantly, the process helps those who need it most.
High School Band Fundraisers
Raising funds for the high school band can be somewhat difficult, especially with all the other fundraisers going on throughout the school year. Fundraising efforts are often exhausted, only for the project director to realize that there is still a shortage in funds. While many simply choose to make the most of what they have received by holding off purchasing new equipment or having members pay for their own expenses, this isn't always feasible. However, some are now turning to gold parties to raise funds for their school band.
How the Process Works
When an individual hosts a gold party, a representative comes to their home to appraise the jewelry and makes an offer. This means that there is nothing to mail and everyone knows then and there how much their old, broken or simply unwanted jewelry is worth without the uncertainty. They can choose whether or not they want to accept the offer and are never under any type of obligation to sell. The funds are disbursed right there at the party without any hassle or lengthy wait for a check in the mail. The host or hostess can choose to invite as few or as many people that he or she may like.
Accepting Donations
When those in attendance choose to sell scrap gold, they may choose to donate a portion or all of it to the school band. However, this is not the only option for raising the cash. The host or hostess of such parties receives ten percent of all proceeds, which goes towards supporting the band. Either way, it is a win-win situation that helps raise money without putting pressure on anyone to give. Guests at the party can make a little extra cash and the band still benefits. It's a fun way for the band to obtain money, while allowing their guests to make a little as well.
Amount of Funds Raised
When selling scrap gold, there is never a guarantee of how much can be made. However, many are surprised to find how much the items that have been lying around the house can actually bring in. While some parties may only make a couple hundred of dollars, some can make thousands. A lot of it actually depends on how much gold there is and of what quality. The knowledgeable representative will explain the appraisal findings with each individual and offer top dollar for all approved pieces.
When schools run low on the funds used to support extracurricular activities such as band, the burden often falls on the parents and organizers to obtain the needed money. Although bake sales, car washes and other fundraisers have been used for years to raise cash, it can be hard to earn the kind of money that is needed. A gold party can either offer an alternative to these fundraisers or can simply be a part of the activities. It's a fun-filled, easy way of getting friends and family together to raise some money for a good cause.
Church Fundraisers
The Gold Kings Tabernacle Offering
If your church can collect a sandwich bag of donated gold jewelry like the one below, it will be worth $10,000-$15,000 for your ministry!
A great church fundraiser idea can be found in Exodus 35:22 where the children of Israel were preparing to build their "church", the Tabernacle in the Wilderness. God told them to donate their used jewelry to build the Tabernacle. While you probably do not want to use donated gold as a building material for your church, this method still works today as a great Biblical church fundraiser idea!
A Personal Offering
The sandwich bag of donated jewelry below was collected by a small church of about 45 members. The church was less than 2 years old and wanted to move into their own location but had no idea how to raise the funds needed. During a Sunday morning service, the pastor preached from Exodus 35:22. He then announced that in two weeks the church would receive a Tabernacle Offering. Their goal was to raise $5,000. During the next few services he promoted the special offering and reminded the church what this fundraiser would enable the church to do. With one offering they would finally be able to move into their own building. He was amazed at the response he received. Some of the church members wept tears of joy as they brought their gold offerings forth. Donating their old jewelry was more personal than just dropping cash or a check into the offering plate. They sacrificially gave a sentimental, personal possession to help build their church! The next day the pastor and two of the men of the churchbrought the Exodus 35:22 gold offering to Gold Kings to be assayed. Their total was $10,181.79!
The amount of money raised can be much more. One large church in Athens, GA raised over $100,000 in one day with a single Tabernacle Offering. That may not be much to your church, but at most churches that would be ministry changing! The best part is that it is done by the sacrificial giving of God's people!
A Practical Offering
Here is how it works. Gold Kings will send you a free Tabernacle Offering package that includes individual security bags that allow each donor to get tax credit for their donation. It will also make a way for any non-gold items to be returned to its owner. The congregation donates their gold and silver items to thechurch in these sealed security bags. Once the offering is collected, you can bring it to Gold Kings personally or ship it via FedEx or Registered Mail. Once your package arrives, we will assay each jewelry donation and call you with an estimated grand total. If you accept the offer, we will send your check the same day. If you are unhappy with the offer, we will return everything you sent.
Your church will get a copy of the actual receipt from the gold refinery that shows the exact assay which includes the exact weight, purity, and value of your gold offering. While most gold brokers only pay 45-50% of your gold's value, Gold Kings pays churches 90% and only keeps 10% of the sale to cover our effort and expenses. It really is that simple. Since you will see the actual assay receipt for the sell of your gold, your church does not have to worry about falling prey to unscrupulous gold buyers.
A Powerful Offering
The amount the church can earn by selling the donated gold jewelry will depend on several different factors including the amount of jewelry donated and the purity of the gold. The higher the karat and heavier the weight, the more the items are worth and the bigger the offering. But beyond just the monetary benefits, we have had churches say that their church experienced a move of God, a touch of revival even, as the church went beyond the norm. They stepped outside of the box. Giving cash is great. It takes money to pay the bills. But there is just something about taking an item as personal as jewelry and sacrificially giving it to God. it is outside of the comfort zone. It goes beyond writing a check. It's more than giving a blind, lame, sick, or torn offering. (Malachi 1:8)
That's the beauty of taking up scrap gold as a Tabernacle offering as they did in Exodus 35:22.
Points to Keep In Mind
-This church fundraising idea can be found in the Bible.
-This isn't a loan. The money does not have to be paid back.
-Most members have unused jewelry in their jewelry box they can donate.
-Since every donation is itemized, your church members receive a receipt that can be used as a deduction on their taxes.
-Much of the desperately needed funds for your church are probably collecting dust in the jewelry boxes of church members.
If your church is like most, you probably have financial needs or perhaps a vision you would like to pursue but the money is not there. You do not want to resort to yard sales, bake sales or selling doughnuts to accomplish your goals. Even if you did, it would be very difficult to raise enough to meet the need. I do not know of another way to raise this level of funds from such a small group while having such an impact on their walk with Christ. Rather than leaving the work of God unfinished during these tough economic times, why not following the pattern set by Moses in Exodus 35:22 to raise funds for your church? This "Tabernacle Offering" may be able to raise the funds your church or ministry needs and even more!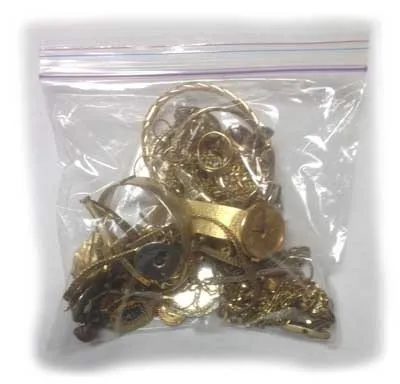 Community Fundraisers
Many communities have various fundraisers throughout the year. They may need funding for buildings, action programs or youth activities, just to name a few of the common things. However, raising money for your community can be a tedious task, whether a little or a lot is needed. While car washes, bake sales and several other events can provide some of the needed funds, organizing can be quite difficult. It can take a lot of time, money and volunteers for success. There is another option though, such as raising money for your community by selling gold.
Selling Scrap Gold
Raising the money needed can be as simple as selling coins, unwanted jewelry items or anything else made of gold. It's something that the whole community can participate in, regardless of how much time or money that they may have. Almost everyone has these kinds of items in their home, which have often just been sitting in a drawer or box collecting dust. The person may have mismatched earrings or a broken watch that they have been contemplating throwing away. Why throw away perfectly good cash though? These types of items can bring in a significant amount of money that can benefit various projects throughout the community.
Organizing an Event
Although there is the option of mailing these items in, hoping that they are received and waiting for a check of an unknown amount to arrive, the simple thing to do is to host a gold party. At a gold party, a representative comes to the party, appraises the items and offers cash for gold on the spot. It's a lot less risky than mailing these items in and more profitable than taking them to a pawn shop or dealer in most cases. It also helps relieve the uncertainty of not knowing if enough money was raised or not. That's why raising money for communities by selling scrap gold is becoming so popular amongst various areas.
Earning Potential
One of the most unique concepts of raising community funding via a gold party is that the earnings are not limited. With other types of fundraisers, resources of time and money play a significant role in efforts. This isn't the case when selling scrap gold. Large parties can yield anywhere from hundreds, to even thousands of dollars. However, the amount of money netted from selling gold will depend on how much there is and the quality of the individual pieces being sold. None-the-less, some have raised significant quantities of money for their community by raising money in this manner.
Communities rely on adequate funding to maintain and create new programs that fulfill the needs of its members. Rather than waiting for something short of a miracle, improvising and even in some cases doing away with these programs altogether, many are turning to selling scrap gold. It really is a quick and easy way of raising much needed community funds. There is nothing to lose, meaning that the community gains a lot from such efforts.
Youth Sports Fundraisers
Youth sports and fundraising go hand in hand. That is why using a gold party for youth sports fundraisers (little league, gymnastics, swim teams, etc.) is one of the most unique and profitable methods of raising money for you league.
Youth sports such as Little League, gymnastics, swimming, T-ball, and soccer are important in the life of a child or an adolescent. The use of a scrap gold donation drive could easily bring in up to $15,000 for every Ziploc bag your team can collect full of old, broken jewelry. When a gold party is utilized there are a variety of advantages that are not found with the tried and true methods of before.
It's easy!
First of all, a gold party brings the supporters of the team or youth sports community effort (many youth sports teams have auxiliary groups that help support them) together in one place. And, finding the gold to donate to the gold party is normally a pretty easy accomplishment. Most people have a piece of gold or silver jewelry that they never use or wear any longer. What better way to make use of this gold or silver than to bring it to a gold party that is supporting a local youth sports team?
It's Not Unhealthy
There are many other methods of fundraising, such as selling candy, popcorn, and pizza. And, many fundraising companies offer candles, and even a method to gain funds by recycling ink cartridges. However, the majority of these systems result in a lot of paperwork, distribution time, and collection of funds from parents, grandparents, and neighbors. This is not the case with a gold party for youth sports!
More and more youth sports groups and associations are seeking out healthier alternatives when they choose their annual or biannual fund raising activity. They are doing this because of the emphasis on the lack of good nutrition in our school and among the diets of our young. How can they reconcile selling candy bars for fundraisers and discuss nutritious eating habits at the same time. The message being sent is not cohesive and parent, teachers, coaches, and those on sports association boards are very aware of the disparity in various fundraising methods and good and healthful eating habits.
A gold party for youth sports fundraisers (little league, gymnastics, swim teams, etc.) can fulfill the need to bring in much needed funds and it can also be a sterling solution to the healthy fundraising debate. Beyond all of this a gold party brings the community together all in one place. They are rewarded by donating those pieces of gold and silver that are not needed personally. The community members can feel enlivened knowing that they are contributing to the health of their community by supporting youth sports and allowing kids to have all the equipment and other accessories that are needed to play a good game.